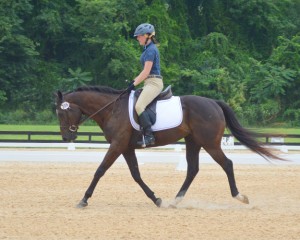 8/5/2013
Avery is available for lease!!
5 year old OTTB available for on-site half lease for $250 a month. Avery is a sweet, in your pocket, 14.3 hand dark bay/black gelding.  Avery needs mileage and if you are looking for a horse to help build your confidence and work on basics, he's your guy!  He enjoys work, although he can be on the lazy side some days, he is confident advanced beginner safe, but prefer a knowledgeable intermediate rider for him.  Avery is green and he is learning to jump and master basic dressage.  We currently training him for eventing, but he is quiet enough for hunters, which I will change his training towards by the end of the year.
Lease will require weekly lessons with our trainer, Kimberly $30/hourly. Available for 3 days a week which includes one day for a lesson. You will be able to show if you wanted to, not required as I will be showing him myself, and I will haul for you. Jumping will require supervision until Avery is more comfortable over jumps.
Available September 1st.
Avery is located in Manassas, VA.
If you are interested in meeting Avery, you can contact Christina at 571-340-2425 or e-mail: SecondChanceSporthorses@gmail.com
To learn more about Avery, see additional pictures, videos, and his story, visit:  http://www.secondchancesporthorses.com/henry-avery/
Video:  http://www.youtube.com/watch?v=sqHH9clEFfw&list=UUUv6dWwln3ECT9h-gJx9BjA