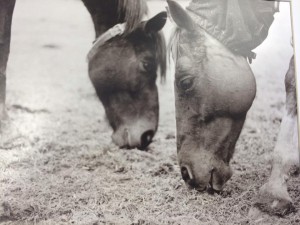 3/13/2014
So much has been going on here at SCS that we have gotten behind on our updates here on our website.  Here's whats been going on:
– We decided towards the end of January that our paint lesson horse, Roo, wasn't happy with being a lesson horse.  He appeared to be missing the one on one time that comes from being privately owned and wanted to go back to the trail horse life.  We were able to find him a new home very fast.  He is now named Oreo and is a little girl's trail horse.  They promised him a forever home and we could not be happier with the progress reports and pictures we get often.
– There is a new face at SCS!!  With Roo leaving, it opened a spot for us to bring in another lesson horse.  This time we decided to find another OTTB to add to our herd.  We had specific needs in our next horse so we decided to get a more advanced horse for our intermediate riders to learn to school a young horse and because JJ became our beginner lesson horse.  After 2 to 3 weeks of searching every website we know of that contain horse sales listings, not quite finding THE horse we needed but were willing to settle, Kim found our horse!  Kim found Jazzy in Columbus, Ohio through a Facebook group.  She is perfect!  We hooked up trailer and headed out for what turned out to be a 21 hour round trip on February 19th.  We would make that trip again in a heartbeat!!  Our student, Alice, and her have become a team and will show this coming spring together.  To meet Jazzy and learn her story, she has her own page.  You can find her under the tab "Our Horses".
– At the end of February, the riding ring we have been looking at unfinished since early December was finished!
– With winter's grip appearing to loosen it's hold, we started advertising our lesson program again with lots of success.  In the 2 weeks since starting to plaster SCS all over Facebook local horse groups, we've increased our student count by 5!  Mainly we've gained experienced intermediate riders who have been looking for a new active barn.  Avery has gained more riders (which to us is amazing!!) and Jazzy started her new career as a lesson horse too.  JJ is still our work horse with his weekends full of teaching beginner level riders and handling it with amazing talent.
– In Stewie news, his eye has healed, he returned to getting lessons with Kim, and together they are our rock star team!
– Kim with Stewie and Becca with her pony Oliver will be attending the Robert Gage, former #1 Grand Prix rider and from the popular page on Facebook; Judge My Ride,  jumping clinic at Frying Pan Farm in July.  SCS will be a sponsor of the clinic too!
– We signed up to be part of our first convention.  You can meet us at the Fredericksburg Pet Expo in Fredericksburg, VA in September.  We will be there to promote our lesson and training programs, sell horse treats and SCS swag, and to ask for donations to pull another Camelot horse.
– The picture posted above of Stewie and Jazzy grazing together was taken by our talented, official photographer of SCS and one of our two original students, Alice of Alexeeva Photography!  Visit her site at:  Alexeeva Photography
– Christina