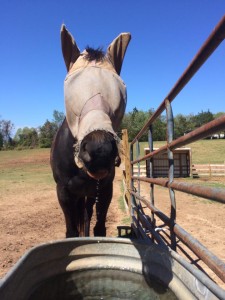 4/28/2014
Couple of updates!
With our move to our own barn looking more and more likely to happen and on schedule, we are officially on the market for another lesson horse.  Here is what we are looking for:
– Horse must be able to back beginners but can still be a mount for our intermediate riders to show.
– Must already be a veteran of jumping and no dirty stops or run outs.  Lead changes would be nice for our hunter riders but not necessary.
– Easy keeper, so no Thoroughbreds or Thoroughbred crosses…  can't believe I wrote that….
– Younger the better, nothing green and senior horses are considered.
– Budget is tight.  If you would consider a lease to own that would be ideal!  Free is even better. 

We are a lesson barn.  Horse obviously will be part of our lesson program, however we are very different than most lesson barns.  We pride ourselves in the care our horses receive as we work closely with vets, farriers, and chiropractors to keep our horses at the top of their game.  Our students love every single horse and they spoil them all equally.  Horse will be available for lease to our students so they will have plenty one on one time with a special person.  You are more than welcome to meet our horses and facility before placing your horse with us.
Update #2!
Avery and Jazzy are available for lease!  $250 for 3 rides a week.  You will get priority on your days and on show days.  You will have to work with a trainer while leasing but with Avery your trusted trainer is welcomed on site with prior approval and insurance coverage.  You are more than welcome to work with Kim during your lease of either horse.  Lessons are an additional charge at our regular rate.  Jazzy is available for long term, however Avery is available for 6 months as I will be pulling him from our lesson program to officially take him over myself.
If you are interested in leasing a horse or if you have a horse for sale, please contact us here through the website under our "contact us" tab!
– Christina